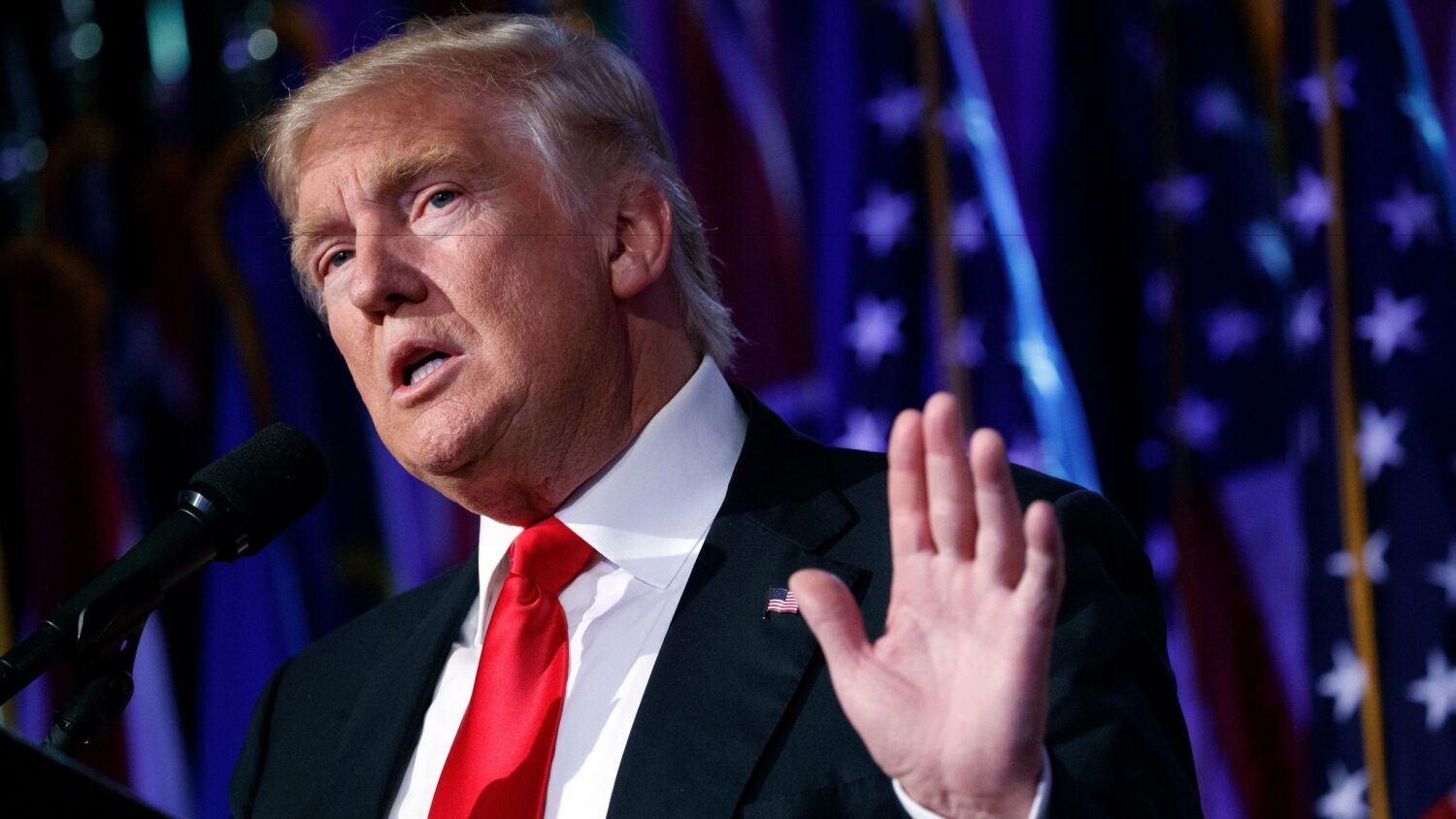 Thousands of American-flag-waving Trump supporters descended upon Newport Beach on Sunday in anticipation of the president's arrival for a fundraiser to bolster his reelection bid on Nov. 3.
Red MAGA hats were ubiquitous in the crowd and masks were scant. The sound of country music mingled with shouts of "Four more years!"
Meanwhile, hundreds of Armenian Americans joined the demonstration, in a show of solidarity with Armenia in its battle with neighboring Azerbaijan over a small separatist region on the border of the former Soviet republics. They demanded that Trump take action against Turkey, which has expressed support for Azerbaijan.
"Armenia needs Trump!" a protester, his shoulders draped in the orange, red and blue Armenian flag, yelled into a megaphone. "Save Christian Armenia!" Many of the Armenian American demonstrators were also Trump supporters.
Melimeh Soukiasian, 36, of Los Angeles said she wasn't sure yet who she'll cast a vote for in November, but said she would support Trump if he spoke out against Turkey's actions.
"Our U.S. tax dollars are funding the weapons that are being used to target civilians and hospitals, sacred churches in Armenia," she said.
Trump is in Orange County to raise money for his cash-strapped campaign even as he is running behind Democratic nominee Joe Biden in polls.
"Everyone assumes he's going to go to battleground states. No one really thinks about how Orange County, California, is an ATM machine," said Jon Fleischman, a former state GOP official. "So people are pretty excited. This is a high-stakes election."
Orange County, a longtime conservative citadel that nurtured Ronald Reagan's conservatism, voted Democratic in the 2016 presidential election for the first time since the Great Depression. Last year, the number of registered Democrats outpaced the number of registered Republicans. But the county remains home to a cadre of deep-pocketed GOP donors.
Tickets to the Newport Beach fundraiser — which will feature a live performance by the Beach Boys — start at $2,800 per person, up to $150,000 per couple for co-chair status. Trump will appear alongside Richard Grenell, his former ambassador to Germany and former acting director of national intelligence, at a lunchtime roundtable and reception.
"I want to see his energy. I just want to see him," said Tina Zubia, 60. The Azusa resident and psychic medium who used to appear on the Rick Dees radio show planned to attend the fundraiser with her sister Stephanie Urbach, who lives down the road from the Lido Isle mansion where Trump will appear. "I feel like he really has our best interests as heart. He's creating jobs in America, and putting us as Americans first. And he doesn't take anything from anybody."
Urbach, 55, added, "He does what he says."
Not every Lido Isle resident was on board. Tisha, Urbach's neighbor who did not want her last name publicized, put up flags for the Democratic ticket of Joe Biden and Kamala Harris in her front yard on Friday — rare among the Trump flags and lawn signs at many of the community's homes.
The fundraiser will take place at the home of Palmer Luckey, a 28-year-old tech mogul who is believed to be the inspiration for the Keenan Feldspar character on HBO's "Silicon Valley."
The Long Beach native sold his virtual reality company to Facebook for $3 billion at the age of 21 and remained an executive at the company. He later claimed to have been forced out because of his conservative views; Facebook executives have denied that his politics played a role in their decision to part ways with Luckey. He is currently working on a defense start-up whose projects include using technology to detect immigrants crossing illegally over the border.
Luckey is among California's top GOP donors. He has contributed $2.5 million to GOP candidates and causes between June 2017 and Sept. 30, according to fundraising disclosures filed with the Federal Election Commission. His top donations included $450,000 to Take Back the House 2020, $400,000 to Trump Victory and $392,900 to the Republican National Committee.
Luckey's mansion overlooks Newport Bay and sits at the tip of the manmade island that is home to about 800 residences and connected to Newport Beach by a two-lane bridge.
window.fbAsyncInit = function() { FB.init({
appId : '119932621434123',
xfbml : true, version : 'v2.9' }); };
(function(d, s, id){ var js, fjs = d.getElementsByTagName(s)[0]; if (d.getElementById(id)) {return;} js = d.createElement(s); js.id = id; js.src = "https://connect.facebook.net/en_US/sdk.js"; fjs.parentNode.insertBefore(js, fjs); }(document, 'script', 'facebook-jssdk'));



Source link